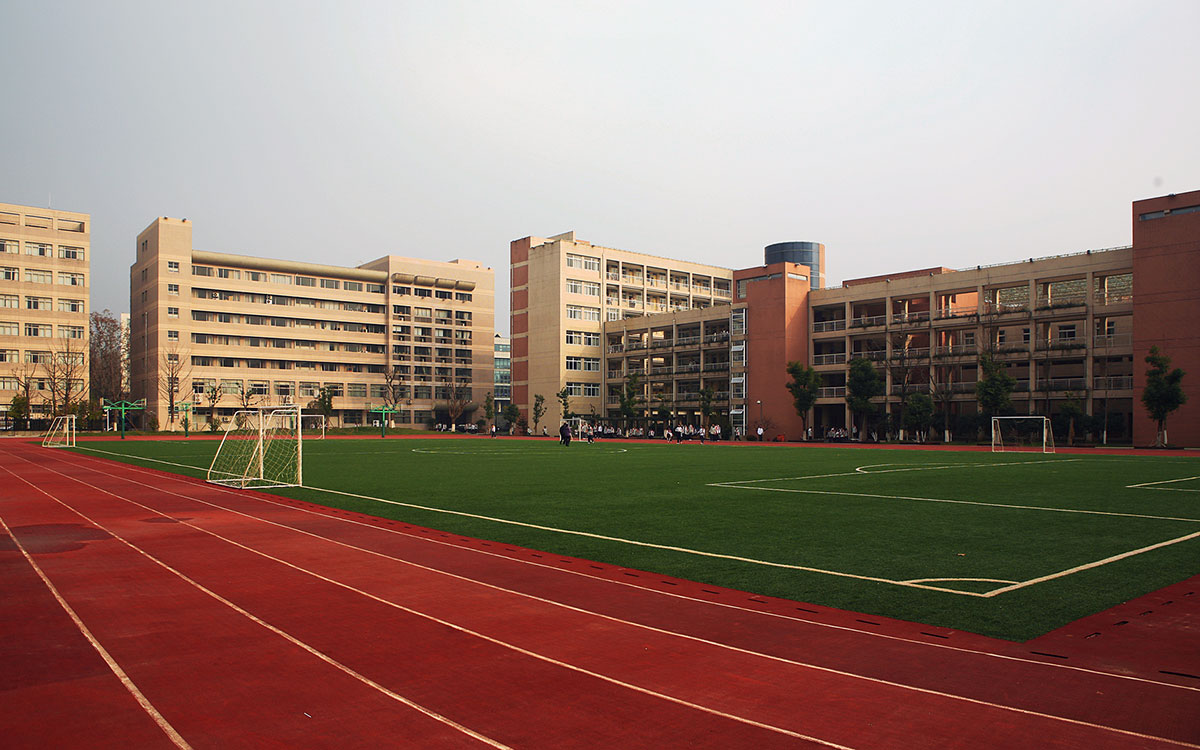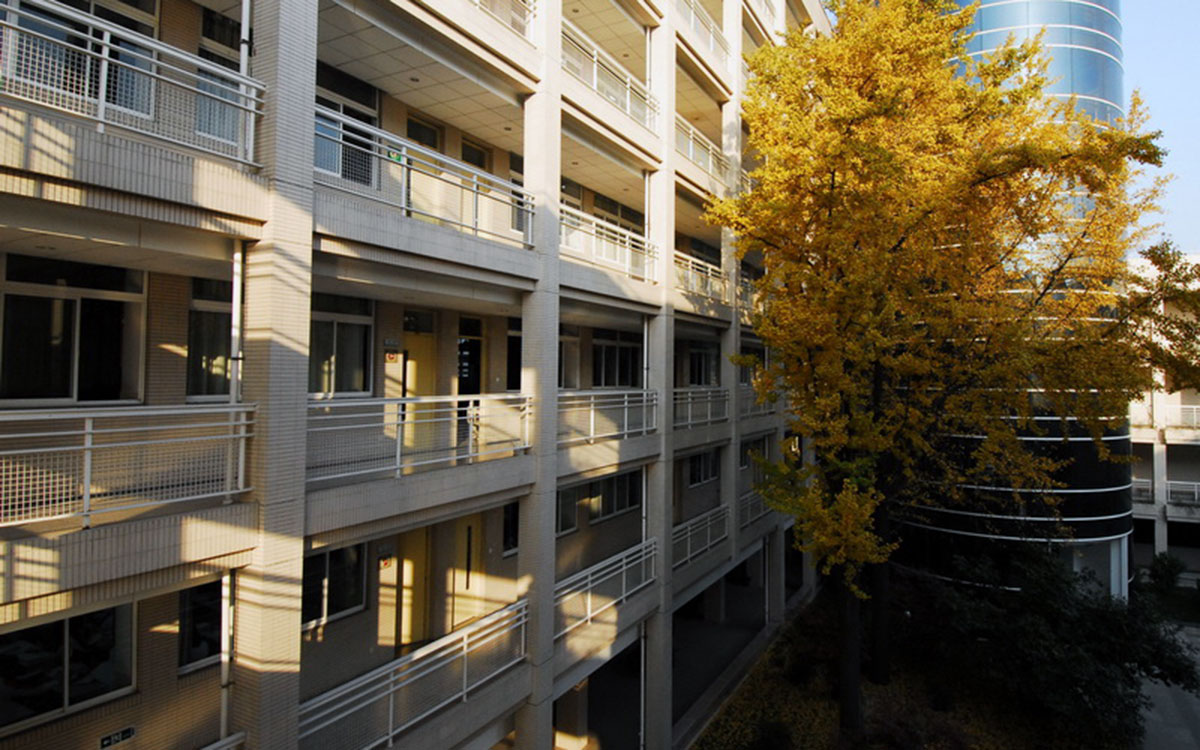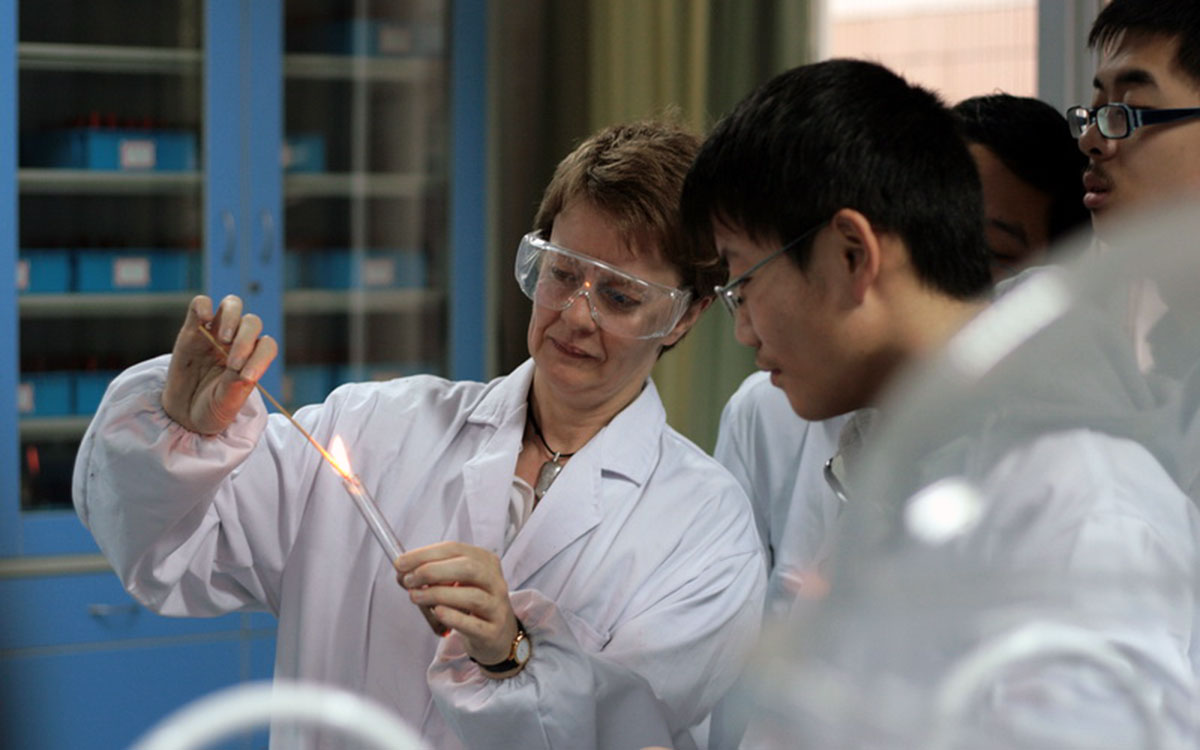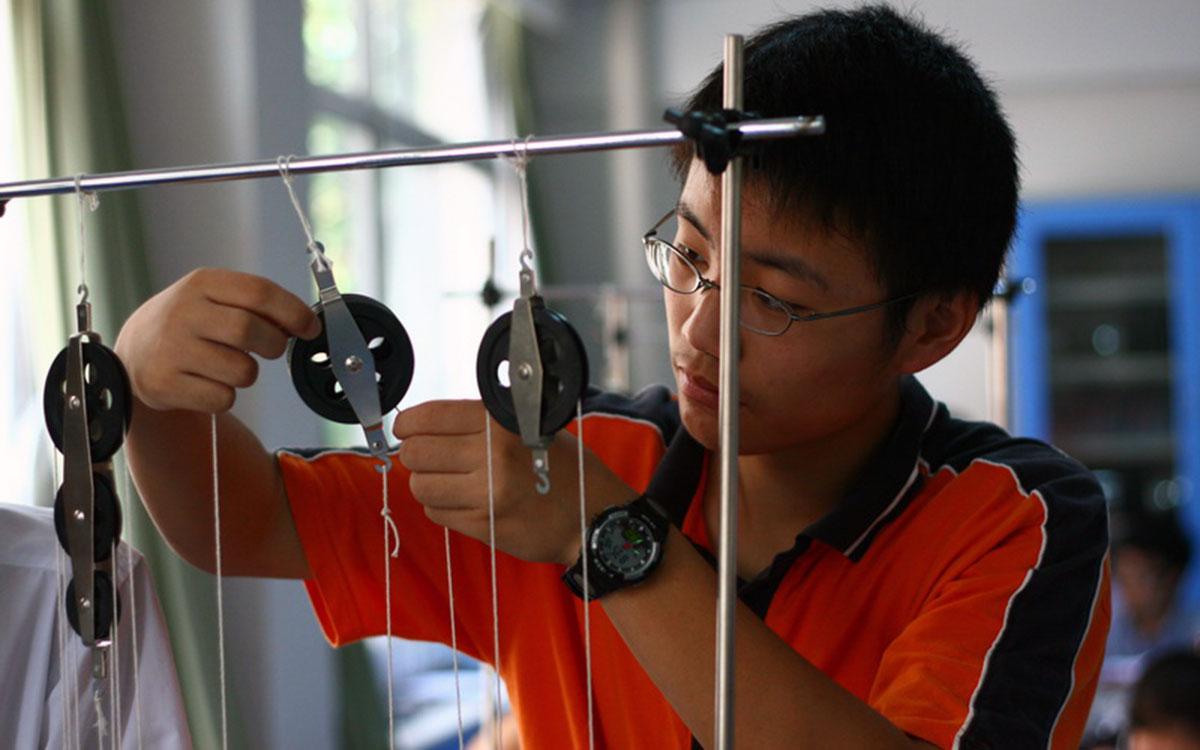 About the Host School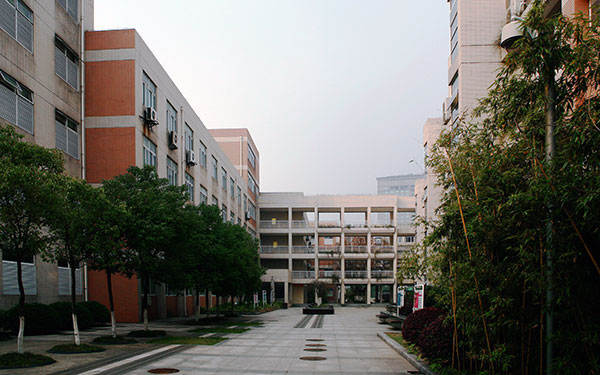 The school was founded by the first premier of the People's Republic of China, Mr Zhou Enlai, in 1963. There are approximately 4,000 students, ranging from 12 to 19 years old.
NFLS advocates the spirit of seeking the truth, scaling the heights, being erudite and modest. It also emphasizes teaching that is 'strict, careful, creative and flexible'. The educational goal of NFLS is to produce high quality talented students who are ambitious, patriotic, ethical and broad-minded. These students are also civilized, erudite, creative and experts at foreign languages; integrating both knowledge and practice using a healthy body and a sharp mind. In brief, NFLS aims at producing international, multi-talented graduates who have a good command of foreign languages with a wide knowledge of science and art, and powerful abilities to integrate these subjects.
Situated on 2 campuses, the main campus moved to new premises in 2008 and accommodates approximately 3400 students. The other campus accommodates approximately 700 students, including the A-Level and IBDP Centre. Facilities are modern, with data projectors and internet & networking facilities in every room. Our laboratories are good and classrooms are bright and airy with air-conditioning. Both campuses have good sporting facilities, including artificial running tracks and playing courts, gymnasiums and basketball courts. We are close to transport and located near the centre of the bright, vibrant culture of Nanjing City.
Many acknowledge NFLS as the Premier High School in Nanjing. Students must apply through a lottery process in order to be able to sit for the entrance exam. Approximately 700 students per year are admitted to Junior 1 grade from an initial applicant pool of over 4000. Students are active in all aspects of high school community life. Approximately 500 students live on campus as boarders.
Every year, top universities in China and around the world admit large numbers of our students. In recent years, Nanjing Foreign Language School has maintained an extremely high rate of admission rate in the National Matriculation Tests, and ranked as the first in Jiangsu Province successively for several years. Nanjing Foreign Language School has educated about 200 diplomats for China, seven of whom act as Ambassadors to other countries, eight as general consulates and dozens of whom work for the Party and are State Leaders. Many more graduates of NFLS hold leading positions in government. In addition, significant numbers of graduates have become famous experts or scholars.
About the A Level & IB Centre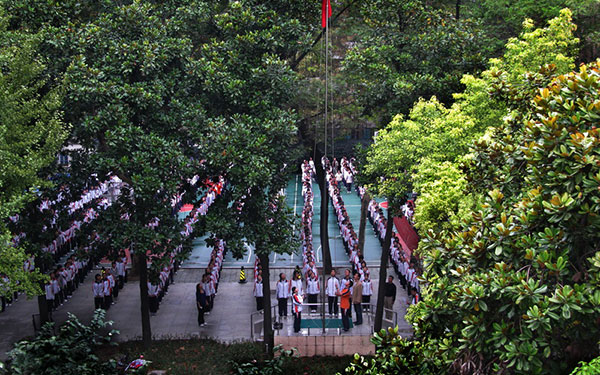 NFLS A Level Centre was opened in 2006 and has offered the IB Diploma from 2012. There are nearly 320 students in the Centre and over 30 expatriate staff. We also have15 Chinese staff working as tutors and classroom teachers, a large college counseling department and a fully qualified librarian. Education provision is also assisted with the help of 2 lab technicians.
NFLS has fully equipped labs – 2 for Chemistry, 2 for Physics and 1 for Biology (all with well resourced prep rooms). We have a fully equipped ICT lab, a lecture theatre, Art room and library. All classrooms have data projectors and internet connections. There are 15 standard classrooms and plenty of office space. NFLS runs a variety of clubs and sporting activities, with help from the host school. NFLS students organize their own thriving and successful Students' Union, which is very proactive in organising and assisting with clubs, activities and a wide variety of events.
Key benefits include working with a great team of talented foreign and Chinese staff. Students are very amenable, intelligent and cooperative. Nanjing itself is a very livable city and a very pleasant place for work and leisure, although it can get blisteringly hot in summer and very cold in winter. If you get fed up with this city, (with its many shops, restaurants, parks, lakes and mountain!) you can get to Shanghai in just over the hour by fast train, and not spend a fortune doing so.
Lifestyle
Teachers have a good standard of off-campus accommodation. Most teachers choose to live close to the school or towards the eastern edge of the city.
The more you are willing to be a part of the community, the more you will enjoy this place. People are friendly and helpful in the extreme. There is a quality gym and 50m indoor pool nearby and the school is close to the city centre.
The Metro (underground) is on the school's doorstep and both the Metro and buses make travelling around easy – though it can be a bit crowded on buses during the peak hours. It is said you can go from anywhere to anywhere in Nanjing using just 2 buses (and for about 2 Yuan a journey). The school is surrounded by restaurants from many countries of the world.
The city's history is diverse and fascinating. There are a wide range of museums and historical sites dating back to the Ming dynasty. Further information can be found at:
http://www.travelchinaguide.com/cityguides/nanjing.htm
http://www.chinahighlights.com/nanjing/
http://nanjing.jiangsu.net/
http://www.chinavista.com/nanjing/home.html
http://www.muztagh.com/nanjing/index.html
Teacher Case Study
Isobel Bartz, Music and Theory of Knowledge
I was born in Japan and grew up in Southeast Asia during my father's career as a foreign service officer in the U.S. State Department. During this period, I attended private schools and Department of Defense schools in Burma (Myanmar), Australia and Korea so in a sense I am also a product of international education.
I started singing at the age of three and always played piano and listened to music. Wanting to be a trained singer and musician, I became a voice major at the University of Maryland and went on to complete a Doctorate of Musical Arts at UNC-Greensboro in North Carolina in 2002. I later taught at two colleges and ran a private piano and vocal studio out of my home.
Seeking an opportunity to teach overseas, my first position was teaching K-12 music in Ukraine. I later taught PYP music in the UK before coming to Nanjing to teach DP Music at NFLS IB Centre in Nanjing, China.
I teach Diploma 1 and 2 Music, Theory of Knowledge, general Music to Pre-IB and Pre-AL (Senior 1) students. I've also supervised the Extended Essay, assisted with CAS activities and all extra-curricular music events. Throughout the school year, students prepare for and participate in two NFLS Arts Festivals, the Drama Festival, school-wide talent shows, assemblies and other concerts.
I have also established the music curriculum and resourced the program; buying equipment, books and sourcing music software applications for student use.
Serving in such a variety of capacities keeps the job interesting. Especially witnessing the creative energy the students demonstrate in directing, composing and playing music. By offering music, students learn a variety of skills that will undoubtedly serve them in other areas of their life (for example, building self-discipline, stage presentation and self-confidence).
There are several benefits to working here at the NFLS IB Centre. First, our Centre Principal is very enthusiastic and supportive toward the Arts, secondly, the students' aptitude and hunger for artistic expression is always gratifying and third, the Centre has supported purchasing the instruments and other equipment needed in order to sustain and grow the Arts Centre here at NFLS.
I have a comfortable apartment and some very nice friends here. For those of us who crave comfort food, there are also plenty of places to get a plate of spaghetti or a burger if you want it! Being a travel bug, I have also been able to visit many of the places I had wanted to see in China such as Shanghai, X'ian, Harbin, Yellow Mountain, Wuxi, Suzhou and Guilin.
Successful Dipont teachers should come with an expectation that they will be stretched and challenged, but the experience is very rewarding. A sense of independence is also very helpful as well as an interest in the culture of China. It is certainly very helpful to know Mandarin, but a foreigner can manage without it.
Student Case Study
Sammy
In 2012, I entered the high school. I feel really glad to study here. I found that I was given a lot of chances to show my personality and abilities. Also, I enjoyed experimental classes a lot.
I believe that to study with foreign teachers actually tells me about how to show more respect to others and how to understand cultural differences. Sometimes, it was a perfect lesson for me to be more patient.
Firstly, teachers are not as critical as Chinese ones, so I have to be the one who pick out my own mistakes. Then, I have to be very brave to ask all the questions that I want to ask and respond to my teachers' questions. At times homework would be a lot, including three essays to write at one time, and I have no other choice but to be organized, which personally I didn't care about much before.
I still haven't made up my mind about which country to go to for college. However, I really would like to apply for Biochem or Biomedicine and that's where my passion is. I am currently considering about applying to Imperial College.